By Dan Murray | Follow on Twitter
By Dan Murray
Right, whilst we have all tried to bury our heads in the sand at the very prospect of a remake to Paul Verhoeven's Sci-Fi action-fest Total Recall, especially as it has Colin Farrell stepping into the shoes of Doug Quaid, we must now come to terms with the fact that it is happening and there's nothing we can do about it. Now I was sorely tempted to just make a list that said "Arnold Schwarzenegger" five times and have various pictures of the man himself but I decided that, due to my rigid adherence to journalistic integrity, this would be wrong and so I have made a list of five other things that should be in the film.
1: Blood.
I've noticed a recent trend in action movies of using CGI blood instead of real-life squibs. Now this may be due to the fact that it is cheaper and safer to use this technique but I can only think of a few instances when it has been pulled off without it being completely obvious to the audience. The original is filled with violence, action and blood. Personally, my favorite bit is when Doug is caught on an escalator, grabs an innocent bystander who has been caught in the middle of his gun-fight and then proceeds to use him as a meat shield against his enemie's onslaught. The man is literally ripped to pieces, there's blood everywhere, it's a great scene! Now imagine that with too bright blood spraying artfully away from the corpse and a crap looking red CGI mist appearing around the man. It would look shit, plain and simple. All I'm saying is, if you are going to have blood, at least let it be "real".
Also, apparently the film may be a PG13 but this doesn't mean I'm writing off there being any decent action or killing in it. Taken was released as a PG13 in America. Apparently, at 13, you can watch people shoot, stab and beat people to death as long as you don't hear anyone say"Shit" or "Fuck". Actually!
These were also the good old days of action. Where a small 9mm bullet could blow a crater-sized hole in someone's body.
 2. Prosthetics:
This is another area where CGI could ruin the film. I'll admit that the puny Steve Rodgers in Captain America was pretty flawlessly done using some amazing effects but doesn't anyone miss slightly dodgy looking prosthetics these days? Total Recall is full of inventive ideas and most are conveyed on-screen using a mixture of creativity and a rubber model of Arnie's face that looks vaguely like him…..if you squint……and you're not entirely sure what he looks like.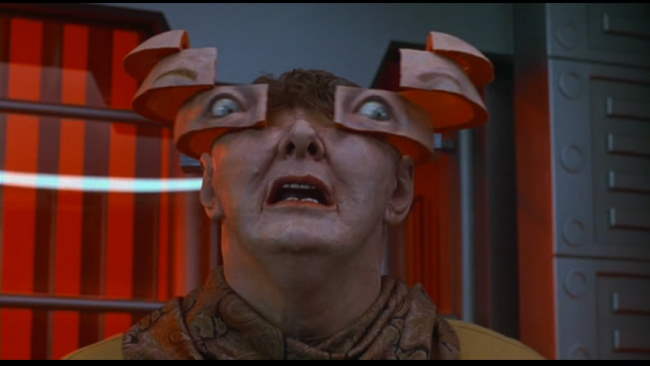 But that's the charm of the movie and for it's day, was pretty amazing looking stuff. We don't want to see Colin Farrell's face digitally and seamlessly added when the head of the fat woman suit he's wearing opens up (another thing I'd like in the movie), we want to see a rubber model of his face that looks vaguely like him…..if you squint……and you're not entirely sure what he looks like.
I like to imagine that this was Arnie's reaction to news of the remake.
3. Quotes:
Remember these classics? Try to read them without a smile of reminiscence spreading across your face or hearing them as if some-one's doing a bad Arnie impression in your head.
"See you at the Party Rictor!"
"Consider that a divorce!"
"BENNYY!!! SCREW YOUUUUUUUUU!!!!! "
"You think this is the REAL Quaid? It is "
"Cohaagen you got what you want. Give these people air!!"
You couldn't, could you? See, like all good Arnie flicks, the movie is littered with quips and great quotable lines. Now admittedly most of the good ones are used when he's either killing people or just about to kill someone. So if there's any hint of violence in this movie, I want Colin Farrell to pretty much wink at the camera, make a joke related to the way he just killed someone and then stare at the audience until it gets uncomfortable for all involved and some-one nervously chuckles, at which point the movie will continue.
Here's an example: After shooting a man trying to convince him "It's all an illusion!" in the head (in all it's hopefully squib-filled glory). He looks up and says "So's your face", which as Scrubs pointed out, is the best come-back ever. (OK, hopefully they'll do a better job with the quips, but you get the idea).
4. The 3 breasted Woman:
Pretty obvious this one. I'm going to assume that most of us saw "Total Recall" during our early teenage years when we'd yet to see a real breast, so the idea of there being an extra one was like some kind of gift from God ( Granted, a God who would severely judge us for doing what we were going to do to ourselves with that image in our heads, but a gift from God nonetheless). Also here's a list of Actresses who should possible be considered for the role:
In fact, scratch that, what we need is all these woman, on-screen all the time and always topless. Wait, let's take out the 3 breasted part and just make a movie about that instead, it'd make more money that a shoddy re-make anyway!
5. Ambiguity.
One of the best things about Total Recall is that no-one is quite sure how it ended. I like to think that Doug saved Mars and got those people air! Others believe that everything after he sits down in the chair is the Rekall dream he had implanted. There's even some who believe that the sweaty doctor is telling the truth and that Doug manages to lobotomise himself by the film's conclusion. It doesn't matter who's right and who's wrong (though I'm right, obviously). It's a movie that leaves people with their own opinion of what actually happened. That's a good thing, what's life without a little mystery every so often? If by the end of the remake, Doug has figured it all out and everything's all right in the World (and Mars) again, then they really missed the point.
Also, while I do think there will be ambiguity by the end of this movie, it could still be poorly done. The great thing about the ambiguity of the original is it doesn't come about from any shocking new information that occurs in the final minutes. You watched it and took your impression of the movie as a whole and then had to think back on it all to make up your own mind. If it does appear in the remake, I'm pretty sure it will be a last minute shock reveal or something so the audience are clearly aware that they should be thinking "Oh wait, maybe it was a dream/hallucination/terrible remake?". Which once again misses the point.
We did it….maybe….am I dreaming? I hope so, otherwise I just killed my hot wife for you.
 Balls, I couldn't leave it out, so here's :
6. Arnold Schwarzenegger.
Journalistic integrity be damned, it's an article about what I want to see in Total Recall, and I think we can all agree that this is the only Doug Quaid that we could ever want or need.
To paraphrase the man himself. "You think I'm the Real Quaid…..I AM!"
 I can pretty safely say that bar perhaps the 3 breasted woman,whom I've read will be returning (though unfortunately not in the trouser tightening form of Christina Hendricks), none of these things will appear in the final piece. Instead I'm almost sure we'll get to see Colin Farrell's Doug Quaid take CGI assisted pot shots at bad guys, miss every opportunity to say "So's your face" and finish the movie with everything all nicely wrapped up.
But hey, maybe I'm wrong.
Maybe this will be the best remake ever.
Maybe they'll address all these issues and more.
Maybe my wife, Sharon Stone, was right when she told me I shouldn't go to Rekall to get a memory implant of writing this article on the Total Recall remake.
Maybe?…….but if that's the case, then why is she sweating?
Tags:
arnold schwarzenegger
,
colin farrell
,
paul verhoeven
,
total recall